what others say

Read what past workshop participants have said about their experience
____________________________________________________
See the groups and participant images from our past workshops
"Had a wonderful time on the Glacier National Park workshop. This was my third workshop with Steve and as usual I had a great time. It was great seeing friends from previous workshops as well as making new friends I had not met before. The weather was fantastic and the images will provide lasting memories for years to come. I have learned many techniques and feel my images have continued to improve with each workshop. Your valuable tips and inspiration have been very helpful. I look forward to many more workshop experiences!"... Keith LeBlanc
This is a wonderful park (Glacier) for landscape photography. Luckily weather was good and you and your helpers were very knowledgeable and helpful.I hope to join you in some other tour in near future.... Naseer Raja MD
Steve - So endeth our twelfth workshop, this one in Glacier National Park. As usual, the workshop fulfilled all my expectations and more. We had stunning surroundings, a variety of weather, a terrific group dynamic, and lots of opportunities to open the shutter and capture our vision of Nature's grandeur on our sensors. I also filled the CF card between my ears with this stunning place. I've wanted to visit this place for many years - and I know I will be back soon. Thanks again!... Robert Von Mayr
| | | |
| --- | --- | --- |
| | | |
| Death Valley in the Spring... | Our 2011... | .....Workshop in action |
| | | |
| --- | --- | --- |
| | | |
| at work | ..........in the right place | ......at the right time! |
I really enjoyed this workshop (Death Valley spring 2011). You have done your usually scouting and legwork and brought us to a great variety of places. The workshop group was a great group and all were friendly and helpful. James was an excellent assistant. You, of course, made it happen and really ran a wonderful workshop that I will have lasting memories and pictures of. Many thanks! .... Raymond Jabola
Steve, I thoroughly enjoyed the Death Valley Workshop. Your insights and knowledge of the area were inspiring. We covered a lot of ground in those 5 days. We saw some really beautiful scenery. I have many memories, a collection of images and some new friends. You will see me on another workshop soon!... Kevin Bailey
Steve- I think you know how much I enjoy your workshops!! ... Jere Alhadeff
Death Valley has been on my bucket list of places to photograph, but having never been before I thought it was wise to get my introduction through a photography workshop. I stumbled upon Steve Kossack's workshop through a Google search. After speaking at great length with Steve, I knew it was the workshop for me. I was going to be surrounded by experienced, like-minded photographers. Steve also warned that the pace would be quick with not much down time in order to see and photograph the highlights of the park. It was well-worth the sleep deprivation and long days. The workshop was everything I had hoped for. Steve is very passionate about photography and it shows. He runs a very well organized workshop tailored towards group, as well as individual instruction no matter what the level. If you are interested in taking your photography skills to the next level, Steve's full-service workshops are for you! ... Judy Graham
Once again you showed us some magnificent locations to make beautiful images. If you keep this up you are going to get tiered of me on your workshops. Looking forward to Monument Valley in October!. Thanks again for a great trip.... Kevin Coghlin
The five days spent with you in Death Valley was a total delight! You put us in the right position at the right time. It was a complete learning experience for me; I thank you for the personal attention. ... David Williams
Great to be able to shoot with you again after many years. I will continue to recommend your workshops to others and hope to be there for many more in the future.... Brian Lee
Five years ago Steve dragged me, kicking and screaming, on his Death Valley workshop. This High Sierra snob just didn't understood the appeal of deserts. Little did I know I would fall under the spell of that magical place the first evening when Steve led us out on to the dunes.
Fast forward to my *third* DV workshop with Steve. The magic continues with both Death Valley and Steve's workshops. I've now been on more than a dozen trips with Steve. Each time I have come back with great images, new friends and a renewed passion for my art. I highly recommend Steve and his workshops.... Paul Sumi
I too enjoyed working alongside you in the field. I have been photographing for several years. Regardless how long we have been photographing and how much knowledge and experience we have, when you are around really good photographers you cannot help but learn new techniques and concepts. So was the case here. Not only was I able to photograph in a neat location, but I learned several valuable techniques and concepts watching and working alongside you during the five days we spent in Death Valley. I am looking forward to attending another workshop with you, either the Monument Vally or the Slot Canyons... Steve Barger
Thanks again for a wonderful workshop. This was my third trip to Death Valley with you, and even though the weather didn't cooperate with us, we still had a great time and got some good images. Your workshops allow photographers to get away for a few days and worry about one thing; taking good images. I can't wait until the next workshop with you.... Jeff Schweiger
| | | |
| --- | --- | --- |
| | | |
| Our 2011 | Yosemite Valley winter | workshop group |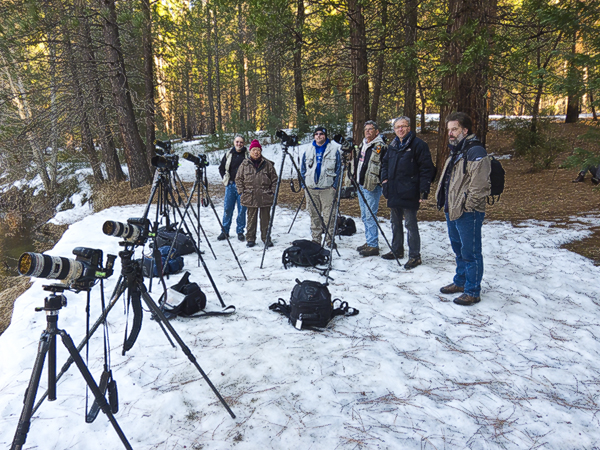 at work and play
It has been a terrific workshop. (Yosemite Valley winter) My photos are on my computer, but my soul is still in the Sierra, with all the poets, explorers, thinkers and nature lovers you quoted... Alain Trinckvel
| | | |
| --- | --- | --- |
| | | |
| The thrill of the hunt and. . | excitement of the chase | Big Bend N.P. 2010 |
| | |
| --- | --- |
| | |
| | |
Thanks, Steve, for opening my eyes to another part of the beautiful world we live in. I was excited to go with you to Big Bend, a part of the country I had never been in. The workshop met and surpassed my expectations. It's good to be in situations where you have to try new things and can't fall back into the comfort of the familiar. It was great to spend time with you again and share ideas and aspirations. I enjoyed seeing many friends from past workshops and making new ones. As always, seeing and hearing what others are doing and seeing is very valuable to me. Big Bend, in some ways, reminded me of Death Valley, but as we explored more I saw many things that make it a unique and special place. I'm still working on my photographic images, but the CF card in my mind is full of images and feelings. My thanks to you for your preparation and scouting and for Bruce, Ken, Jeff and others that helped out. This was workshop number 16 with you for me. I'm looking forward to the next one wherever it may be.
Thanks again. ..Dr. Jeff Johnson
Steve, just in case you couldn't tell, I had a fantastic time. The group was enjoyable, interesting, and talented. It really was fascinating to see such a disparate group all bound together for the simple purpose of doing what we love to do. This was my first workshop. I had no idea what to expect. The Big Bend trip was just great. For me it was a perfect combination. I decided to go because (1) I enjoyed your art as I had seen it on the Singh-Ray filters site; and (2) I have wanted to go to Big Bend for a long time and what better way to see it than with someone that had scouted it for photo ops. It was a perfect combination for me. I did not want to go someplace for classroom opportunities. I wanted to go to take pictures. You style and plan were excellent for me. Thanks so much Steve!... Jim Pledger
So, if you are disappointed with your last workshop it's probably because you aren't familiar with Steve Kossack. The latest excursion with Steve focused our attention on the Big Bend area of southwest Texas. Yet another outstanding venue in a captivating location packed solid with great photo opportunities which Steve has consistently done in each and every outing I've attended. This was the eighth trip I've made with Steve and it just keeps getting better. ...Matt Schlotzhauer
Another winner of a trip. Interesting sites, great local guide (Bruce), congenial traveling companions, and a view of life near Rio Grande that is not part of the evening news. ... Joel Bartlett
This was my second workshop with Steve at f-8 and Be There photography. It will definitely not be my last. Big Bend National Park was an area I had always wanted to explore. I was pleasently suprised at the wide range of landscapes found in the Park. We were taken to all of the best locations at the best times to capture the essence of the Big Bend area. Can't wait until the next workshop. ... Keith LeBlanc
| | | |
| --- | --- | --- |
| | | |
| Sharing thoughts and ideas ... | Our group | Glacier N.P. 2010 |
Steve... The trip to Glacier was just spectacular, the mountains and lakes are truly one of a kind. Your knowledge of the area made the trip very enjoyable. I want to say thanks and I am eagerly waiting for the Death Valley trip next year... Kevin Coghlin
Thanks again for a great trip. I just counted, and your Glacier workshop makes it an even dozen times that I have F-8 and been there with you... and I'm already looking forward to adding another one to my total at Death Valley next March! ... Paul Sumi
Steve, This was a special workshop for me and it could not have been better. A great group of fellow enthusiasts and a tireless group leader. The days were long and tiring and WONDERFUL! I will remember this workshop always and relive it when I peruse the images I have from it. A special time in a special place.... Jere Alhadeff
I have done very little landscape photography so this (Death Valley) was a good learning experience. It was my first workshop so it gave me a sense for what is involved in a workshop and the experience will better prepare me for the next one. I asked a LOT of questions so I learned a lot from Steve and the other more experienced landscape photographers, especially Paul who was very kind to give advice when asked. It's a lot of driving and long days but the scenery was spectacular and we were definitely in the right places at the right time. .. Bruce Leander
I could say so many good things about this workshop (Death Valley spring 2010). I was loving the experience while I was there, and then I get home and start working the photos, and remembering it all over again, and it just gets better and better. I thought your remarks at the outset of the print discussion were really quite wonderful. Really, the way you address us all and our work through the discussion is something special... Tony Aldrich
Thank *you* steve!!!
What an exhilarating introduction to Death Valley! Your passion for this place is contagious! I feel as if i've met a new friend that I want to get to know better...it certainly is a place to which I'd love to return :))) Your workshops seem to attract good people too, or, more to the point, interesting and thoughtful photographers, and I enjoyed every one of them, all different. and I appreciated your ability to get to know each of us as photographers and to make that the glue that would bond us for the trip. You made suggestions but allowed us to be ourselves, no easy task.
I send along my six contributions to the group collection. Thanks for making them possible! ... Marian Howell
Steve, I've photographed in Death Valley with you before, so I knew what was in store. Watching you introduce this amazing place to the first-timers in the group was like reliving the wonder of my first visit. Thanks again for another terrific workshop and I'll see you in Glacier National Park in July... Paul Sumi
| | | |
| --- | --- | --- |
| | | |
| Always on the move.. | the thrill of the hunt... | and excitement of the chase! |
I was able to shoot parts of Yosemite under winter conditions. Focus was on being able to shoot areas, coaching available as needed, small group enabled easier working environment and easier to get to know people. Had a great time despite some unfavorable weather conditions and some great conditions!.. Muir Robertson
Back to Arizona with Steve, and back to snow. Another great workshop. I enjoy the adventure, the shooting, and the friendship. Steve is always available to answer questions, offer suggestions, or just be the driver. He helps as much or as little as you want. I always come home smiling after spending time on Steve's workshops, and hopefully come home with a couple of good shots as well. Thanks again Steve for a great adventure! Hope to see you soon on the next one... Brent Mardis
Steve, I enjoyed the workshop a lot (Landmarks of the Southwest) and felt the format and camaraderie contributed to getting good shots that were also better because of the experience. I'd gladly, and am looking forward, to doing another one, soon... John Dubois
| | | |
| --- | --- | --- |
| | | |
| Landscape photography.. | in great places.. | at the right time! |
I've been spending some time lately thinking about what what really brings joy into my life. Outdoor photography and all that it encompasses is a very very large part of that In my quiet moments I go to those special places in my mind and remember the feelings I was trying to capture with my camera. I appreciate you introducing me to that world. Our first trip was to Yosemite in the winter. I appreciated you and Tim being so patent with me as I knew very little about photography. It has grown from there. I appreciate the fundamentals you have taught me. It is the best way to do things. The thing I most appreciate is your passion for nature and struggle for survival and beautiful things and beautiful places. For me it was contagious and has added a whole new dimension to my life. You gave me a gift that was unique to you. Steve, I want to thank you for that....Dr. Gus Gustafson
You guys were a great group to work with (Bosque/White Sands). I thank you for the opportunity to learn, explore, experiment and the fun shooting experience. I definitely will do another workshop! ... Bing Yeh
It was a very intertersting experience (Bosque/White Sands) shooting fast moving birds in the dark. I think we got some pretty good images. Thanks ... Larry Calof
| | |
| --- | --- |
| | |
| exciting locations ... | with small groups |
Nearly one week since I returned and I still keep thinking about the huge landscapes, the magnificent canyons and wonderful color contrasts we were in for four days (Colorado Plateau). It was a terrific workshop which deeply moved me. I found in many of my images a particular atmosphere I am very happy with .Again many many thanks. I am proud to belong to the f8 and be there group... Alain Trinckvel
Steve, The Colorado Plateau workshop. Had a great time, lots of wonderful images, met a great group of people.... John Deines
Steve, the 2009 Colorado Plateau trip was a terrific follow up to your 2005 Canyonlands workshop. Great locations, great photography, and a great group of people - what more can I say? Looking forward to the next one.... Paul Sumi
| | | |
| --- | --- | --- |
| | | |
| In Death Valley | On the Colorado Plateau | Rafting Grand Canyon |
I Got just as much attention as I wanted and asked for. Various members of the group were also helpful. The group itself was a lot of fun.. Pretty loose. ..No grandstanding... Tony Aldrich
This was my third workshop in the last year and they just keep getting better! Monument Valley was simply an incredible experience all around from the camping to the hiking and culture and of course the photography. The group was also outstanding--just an all around great time. I am already onto my next F8 adventure.... Erin Hart
The monument Valley expedition and workshop was very demanding! However, I would add as I show my prints, the end result was definitely worth it and I will always remember this as a fantastic experience. ..Jere Alhadeff
Steve, your 2008 Monument Valley workshop was so much fun I had to do it again in 2009! This was my 9th trip with you and I always come back with terrific images and new friends. I'm already looking forward to #10!... Paul Sumi
Another wonderful experience chasing the light through a magical location. A wide variety of locations, weather, and photographic opportunities were presented to the workshop. Despite the larger group size, everyone got along and was contributing to the group dynamic. Tom, and his native guides, took us to some new places as well as the old favorites. Camping on the land always enhances my workshop experience and it was again so this time. TERRIFIC - A+ ... Robert Von Mayr

Something for everyone .... Always!
Steve continues to provide the workshop of choice no matter where the venue is located. Death Valley's name may not conjure up an ideal setting for photo opportunities but this is about as far from the truth as one can get. What a spectacular workshop! Many changes in elevation (263ft BELOW or 6,400ft ABOVE Sea Level) and the opportunities provided were fantastic. Over the years, I've attended a number of Steve's outings; this was #7 for me. Each and every one was an excellent photo adventure. By design, the hospitality of his small group of like-minded participants consistently allows each person, the room to grow and explore at their own pace. He is there for you if you want help. I Can not say enough about how well the groups interact. A number of new friendships have been created which is another testimony to Steve's successful model. Most are repeat participants and for good reason, Steve delivers in all aspects! ... Matt Schlotzhauer
I really enjoyed the workshop a great deal. I had seen a picture of Antelope Canyon about ten years ago and decided that I had to find the place where the picture was taken, travel there and photograph it--this workshop more than surpassed my expectations! I love the west so I guess in some ways it is "fait acompli" for me, but the workshop was well done and the locations were all incredible. Thanks again!... Becky Silver
All in all it was a great learning experience and my only regret is that I didn't ask more questions. I will definitely be back and look forward to the challenges and learning more from someone whose work I admire... Jere Alhadeff
Goes without saying..I had a truly outstanding time on the workshop (Landmarks of the Southwest) and still am getting over the beauty of the wave and other sights in Page. I didn't think our Death Valley workshop could ever be topped..but I am thinking that this one may have. Becky and I couldn't stop talking about it the whole way back. I can't wait to go through my images (and there are only 550 or so instead of 1500 from DV). Although I arrived back here (after a record sitting of 12 + hours!!)--my heart and my mind are still out in the Arizona landscapes. Thank you!! ... Erin Hart
Thanks for the great workshop (Death Valley fall 2008). It was really a wonderful experience and a wonderful time for all of us. Your knowledge and experience allowed me to add more tools to my photographic tool box of tips, techniques, and knowledge. I loved the sand dunes. By the way, James was a wonderful addition to the workshop staff. He made everyone feel comfortable and he answered a lot of questions. I plan to participate in another workshop in the near future. Thank you so much. ... Joen Wolfrom
I joined the workshop (Death Valley fall 2008) to have someone who knows the area show me the top spots. Steve definitely met that expectation. We had long days - out before dawn and back after sunset. Sufficient time was provided at each venue to allow each participant time to explore the area for shots. I would strongly recommend this workshop to anyone who wants some serious exposure to an area. ... John Hoffman
The Death Valley workshop far exceeded any of the expectations I had going into the course. I thoroughly enjoyed every part of the workshop. The location was amazing, and the time spent out in the field from sunrise until sunset was perfect! It was also a great group atmosphere and I learned a ton in five short days. Simply stated, it was an all around awesome experience and one I will remember for a very long time! Can't wait for the next one! ... Erin Hart
Thanks again for a terrific trip (2008 Sierra Fall Color). Who would have thought we'd have snow at Mono Lake and Bodie in October? Even though we froze our you-know-whats off, great photography and comradery carried the day. Looking forward to working with you again soon. ... Paul Sumi
As always, it was a great group that you got together. Everyone seemed to respond well with the challenges of the "introduction to winter" aspect of the trip (Sierra Fall Color). For both of us, one of the highlights was the opportunity to shoot Bodie with snow on the ground! ... Joel Bartlett
I can not express enough how much this trip (Yosemite backpack expedition) meant to me. The learning, the laughs, the sharing, and yes even a little drama. This trip will always hold a special place in my heart. I'm like a kid waiting to open a Christmas gift with the images... Doug Burnett
I need to thank you and everyone for making this Yosemite backpack and expedition a blast. I had so much fun, without laughing, in the real world it would be classified as being "Illegal!" Please pass on my thanks and gratitude for making this the best trip ever for me. Steve you did a great job of keeping us all on track without getting too technical, a fine balancing act if I may say so. This trip was not just a job for you, it is a deep passion. I wait until the next one! ... Les Oglesby
Yet another great experience and photos to prove it! Overall its the complete package that works! Great locations, excellent guide, unique experiences (the off roading for one!) and of course the company and the laughs on the trip that makes it all worthwhile. Well done, ... till the next one... Dave Whelan
Thank you for another awesome trip. Monument Valley had long been on my "must explore" list of the great landscape icons and your workshop was the perfect introduction to this harsh but beautiful land and its people. Camping at Hunts Mesa and Mystery Valley and being "of and on the land" for three days immersed us in the spirit of this unique area and I know my images reflect this. Having the services of a Navajo guide who is a photographer and attuned to the needs of photographers added greatly to the experience. And, as always, your uncanny ability to attract people who get along brilliantly "made" the trip. The memory card between my ears is filled with as many great images as the CF cards in my camera. I'm looking forward to F-8 and Being There with you again this fall to chase color and light in the eastern Sierra ... Paul Sumi
I thoroughly enjoyed the Monument Valley workshop. The workshop goals and objectives were just as promoted on the website. All of the described objectives were achieved resulting in numerous excellent photo opportunities. Steve is very knowledgeable about the Monument Valley area and it was a pleasure to work alongside Steve and the other workshop group participants. Our native Navajo guides were friendly and helped everyone to understand and appreciate the native cultures and traditions. We were at all the right places at the right times to capture the best light and photo opportunities. Even though I was the only first time workshop attendee in the group, everyone went out of their way to make me feel welcome and a part of the group. I would recommend this workshop to everyone looking for the ultimate Monument Valley and Mystery Valley experience and photo opportunities. From the early morning sunrise listening to the numerous song birds at Totem Pole to the quiet majesty of sunset at Hunt's Mesa, the workshop provided the opportunity to interact with fellow photographers, enjoy the tremendous beauty of Monument Valley, learn a little about native Navajo culture and take home excellent photos and memories of a time well spent. Looking forward to the next workshop! ... Keith LeBlanc
Steve, I always come away smiling from your workshops and this one was no different. Monument is one of the best. What made it even more enjoyable was our group. Everyone fit right in. We worked and laughed until it was time to leave. The decision you made to set up the workshop with a native guide who is an experienced photographer was a perfect choice. Had a blast and thank you for a wonderful time! ...Matt Schlotzhauer
This workshop (Monument Valley) was my 6th, and was the best non-Grand Canyon workshop that I have been on with you (high praise indeed). The scenery was SPECTACULAR. The Group was FANTASTIC. The Navajo guide was TERRIFIC. The experience of living on the land, meeting some of the tribe and witnessing their artisanship was very value added in getting to feel the special nature of this place. My files definitely reflect the mood and spirit of the experience. We received instruction when we wanted it and did some photography in some very special and remote places. Thanks again! ... Robert W Von Mayr
A good grass roots, love that photography experience and Steve takes the time to answer any question and give advise and direction. Great shoots! ... Lloyd Sarginson
This was my very first photographic workshop, ever. Being with someone that knows the area so well made it an extraordinary experience. I always had the confidence I was brought to the right spots and that I was not missing anything. Thanks Steve for this amazing opportunity I had of shooting with you! ... Normand Primeau
My time in the field was maximized. The locations were excellent, and provided both wonderful photographic opportunities, as well as opportunities to learns about the geography, geology, and history of Death Valley. A wonderful experience! ... Prashant Singh
Thank you very much for a fantastic workshop. The various new ideas and techniques I learned will improve my craft. Your thoughts on filters, exposure and composition will be incorporated into my technique. Also, Death Valley is just such a beautiful place. I have never seen so many differences in the landscape in one place. ... Gilbert Maker
Steve really focuses on the photography aspect rather than the equipment and spends the whole day in the field (Yosemite Winter workshop 2008) rather than in a "classroom". I have learned more from him than what I thought I knew! The time is invaluable. ... Jay Virnoche
Thanks for a great workshop Steve. This was my first chance to see the Landmarks in the winter. The Wave with snow and Horseshoe Bend with fog then later snow were fantastic. The weather did give us some challenges, but, as usual, you were able to work around them. We had an amazing group of people on this trip. Hilarious, eager to learn, and good photographers. It was fun sharing time, experiences and images with all. I'm looking forward to the next one already ... Dr. Jeff Johnson
I really enjoyed (Landmarks of the Southwest 2008) the workshop. The group was more fun than I have ever experienced on a workshop. Page is a wonderful area, and I will definitely return ... Woody Stone
Steve provided an excellent workshop that challenged me and provided an opportunity to capture great images. His experience in remote areas during different seasons was invaluable for being where you needed to be at the right time ... Russell Rosenberg
The 2008 Landmarks of the Southwest workshop was a terrific experience. The Page area is a great place to photograph. The hike to the wave was spectacular. Most importantly, the group was extremely friendly and a lot of fun, making the experience much more than just a workshop. Thanks again for another terrific workshop ... John Bonventre
The Great Smoky workshop was the sixth time I've "F-8 and Been There with you"-- and it won't be the last -- I'm already looking forward to working with you again on the Monument Valley trip next May! ...Paul Sumi
In addition to the great instructor, the experience of being with a group of outstanding landscape photographers and seeing portfolios of their past work was invaluable. ...Edward T Stickle
Thanks for another terrific personal and photographic experience. ... Larry Calof
Thanks for the great trip to the Great Smokys. You took us to some beautiful locations at just the right time for bringing home some fantastic images in my memory as well as that of my camera. For me it was a location unlike any I had shot before, a huge contrast to the West and Southwest scenes I am used to and comfortable with. It was good to be forced out of my "comfort zone" and have to think and see differently. As usual you knew the area well and took us to the good places at the right times. I appreciate the extra scouting trips you took to the area to be ready for our workshop. Once again we had a great group comprised of both old hands and some new faces. I enjoyed sharing with and learning from all of them. I've been pretty busy since getting back from the trip so it was nice to look at and work on my images after a two week period to "digest" all the experiences. I'm looking forward to our next trip together – wherever that ends up – and many more after... Dr. Jeffrey Johnson
The Great Smoky workshop was a really wonderful experience. I am very happy with the images I brought back. Great organization, great group and atmosphere, and great great Landscapes! I am still in the mountains, in the middle of colors…Alain Trinckvel
Thank you so much! I am proud of the results (Yosemite High Camp Expedition) and for me this is the first time to have images publicly displayed. Thanks for pulling teeth, herding cats and, ah well, making the long distance calls to Europe, and not giving up your in your effort to get them from us! And thanks to all of you guys for making this such a memorable experience. I learned something from each of you and it is great to see the same landscape we hiked through, through so many different lenses. Love and peace. ...Rob Heimplaetzer
My desire to capture more of our country's wonderful scenery has steadily grown due to the careful exposure to landscape photography you provided me in our first shoot and with each succeeding trip. During each workshop you've been there encouraging me to think and expand upon what and how I see. With each trip, I realize there is still so much more to learn and there are a number of visible paths before me, all waiting to be explored and all thanks to your guidance. The learning will continue in Monument Valley this spring! ...Matt Schlotzhauer
Be a part of the excitement of Monument Valley in spring
I want to thank you for encouraging me to come on the Yosemite High Country Expedition. I've looked admiringly at the photos from your past High Country workshops and wasn't sure I had it in me. Thanks for the advice on training and equipment. I think the camera I brought was a good balance between weight and performance. I didn't feel hampered by the lack of equipment I left at home. It's been 39 years since I backpacked in the Park. Things like the mountains and lakes don't change much, but my appreciation for them certainly has. In large part, I think, because of the time I have spent out in the wilds with you photographing the special places we have been. I would not have been ready for this trip either physically, or equipment wise without your expert help. I appreciate your attention to making the trip the best possible for all involved. Once again, I have been able to enjoy the wide vistas and intimate landscapes you expose us to. The other participants were key to this being a great trip also. As usual I learned from all and greatly enjoyed sharing my nowledge and experience. It was great to spend time in the wilderness with good friends and make new ones as well. I felt fortunate to see such beautiful and awe inspiring places and to share the experience with all. As you told us this was primarily a hiking expedition with the opportunity to do some photography. I enjoyed the hiking part and the photography and am pleased with the images I brought home both in the camera and in my mind and heart. Thanks again for a fantastic experience. ... Dr. Jeff Johnson
f/8 and being there!
All I can say is 'THANKS' and it was my honor and pleasure to be part of Team Kossack through the Yosemite High Country. I had a fantastic time and the memories are still vivid. ... Paul Beiser
Another great adventure! (Glacier 2007) This was my second adventure with Steve and again I was thinking of the real estate motto: location, location, location. You can't put a value on getting away from it all and enjoying the great outdoors. It is difficult to describe one of Steve's trips, you just have to experience it for yourself. And I can't wait for the next one. Thanks Steve! ... Brent Mardis
The Death Valley 2007 workshop was an amazing experience. Your great love and knowledge of the area was evident as you took us to photograph at the different locations at the time of best light. I will always remember walking out to the Stovepipe Wells dunes for the first time, and listening to the quiet while watching the sunset at the Race Track. I always come back from your trips with terrific images, fresh inspiration, and new friends. This is the fifth workshop of yours that I have attended, and I know that there will be many more. ... Paul Sumi
working as a group gives the opportuntiy to share ideas
Wow! The Death Valley workshop was fantastic. Words alone cannot describe the awesome splendor that you helped us see. I just finished the first pass on processing my images. Now I can relax and enjoy that final sunset at the Racetrack over and over again without the pressure I felt (self-generated) at the time to capture the images. You did a great job of getting us to the right place at the right time and helped us see some of the possibilities in each location. The group was great! One of the best I've been with. It was fun to share information, feelings and experiences. I greatly enjoyed shooting with old friends and newly met friends. I hope to see them all again as I expand on my double digit workshop experience with you. It was fun to see the reactions of some who had not been to Death Valley previously as their hope for something interesting was fulfilled and then watch them be totally blown away by the beauty of the valley. Thanks again. ... Dr. Jeff Johnson
This was my second trip to Death Valley with Steve, and the experience was better then first. Can't wait for the Smokies (Great Smoky Fall Color Workshop) later this year ... Jeffery Schweiger
Thanks for an awesome experience! Death Valley was the perfect place to get away from my busy, everyday routine. As a F-8 "newby", I learned many new skills and look forward to seeing improvement in my photos. Thanks for taking us to the right places at the right time. I enjoyed eating, drinking, and sleeping photography with my new friends who were every bit as enthusiastic about photography as I. I will definitely be back for a future workshop. ... Doug Steger
Perhaps the single most important qualification of a good teacher is a through knowledge of the subject. Steve's intimate knowledge of Death Valley's unique locals and special aesthetic qualifies him as a native desert rat and his technical sophistication is on display throughout the workshop and available for one on one assistance anytime. A good workshop experience... Bill Rau
Location! Location! Location!
The personal attention (Field/studio workshop) was fantastic. I had all the time I needed to ask questions for my shooting and image data processing. I also had many opportunities to watch how Steve shot and processed on the computer in Photoshop. Sedona was spectacular, Thanks Steve, for your 100% efforts. ... Gary Matthews
Thanks again for a tremendous trip. Your Sierra fall color workshop is the fourth time that I have "F-8-and-Been-There" with you and the quality of your workshops have always exceeded my expectations. This trip was special not only for the many beautiful locations at which we shot, but also for the people who attended. It was great to renew friendships with people I'd met at your previous workshops, and to make new acquaintances as well. Your best workshop is always the one I'm attending right now! I'm already looking forward to working with you again in Glacier next July... Paul Sumi
The Sierra Fall Color 2006 was another AWESOME workshop! Thank you so much. It was everything I expected and more. Once again you have provided excellent locations to shoot and that little extra help when needed. It's the best way to spend a vacation! You'll see me again on another f/8 and be there adventure... Janel Randall
I am happy with what I came home with. With this being my first workshop with you, and not knowing for sure what I was doing, I will be SURE and ask more questions next time on framing and capturing the image in different ways. The group print discussion was great and I loved to see other peoples art and how they capture it. Overall the workshop was great and the people you selected to join you were all great and I look forward to joining in on many more events. Thanks again for the great colors and group... .Jim Jordan
Working as a group and making new friends.

Wow! Wow! Wow, I am so happy with my photographs. As a novice photographer I was amased at how much I improved with your workshop. Thank you again for the fun and the chance to learn more about my camera and landscape photography ... Kay Wheeler
Tremendous group participation and experiences. There was a lot of great light and opportunities for great images. Keep up the great work! ... Robert Von Mayr

Thanks again for such an enjoyable time. (Yosemite backpack 2006) I have seen scenery, landscapes and shared moments that I will never experience again. .... Les Oglesby
The Glacier Park Workshop was one of the best experiences I have had with F8 and Be There. This was my seventh workshop with you! To gain and hold repeat business speaks volumes that you are doing many things very well! The lodge you chose was both nostalgic and modern for any visitor. It represents the last frontiers of the great lodges and is within a world not ruled by electronics of our modern age.
You and Tom were always ready, affable and willing to go the extra mile to ensure we had the best shooting opportunities regardless of environmental challenges, both natural and man-made. Being a flatlander (in Illinois) I never would have had a chance to hike through carpets of lush grasses, wildflowers and trees, past three connecting lakes to see its feeding glacier tumbling water into its origin first hand and then have a chance to capture its aqua blue water images.
The print reviews are a unique opportunity to see how others interpret their environment and create art in their own right. Over the past four years, I have seen my photography improve and become increasing appreciated by others. This encourages me to do more, not less. These trips are my safety value from the day-to-day challenges from my business and home life...I look forward to the next one. ...Greg Hohner
f/8 and be there at Glacier National Park 2006
Thanks, Steve, for another fantastic journey. I had a great time on the Glacier National Park workshop. It was a successful trip for me on many fronts. First of all the Park is another of the wonders of the world. Thanks for helping us see her splendors. The feeling of comraderie that developed among the group was very enjoyable. We spent long hours together. It was great to meet new friends and to shoot with and catch up with old friends. The feeling of being part of the Park was enhanced by our stay at Glacier Park Lodge. The lobby with it's huge tree pillars truly felt part of the forest. Photgraphically the trip was very rewarding. We worked hard. I think more hours went into this workshop than most (both by us in the field and by you preparing ahead of time), but we for sure reaped the benefits of those long hours in our experiences and images. It was great to see you adapt to the changing conditions caused by weather and the fire to get us to the best places to shoot each day. Thanks also to Tom for his help and guidance. The images shared in the print discussion were very good. It's always helpful to see others' work and to hear their feelings as well as to get feedback on my own work. I've been home not quite a week, but am already planning on going back again. I enjoyed the time with you, and as always, keep learning more from you. I'm looking forward to more. ... Dr Jeff Johnson
I have just finished my third workshop experience with Steve - and all I can say is WOW! The workshop experiences keep topping each other, and I keep learning more each time we go out together. There was once again tremendous group camaraderie, awesome weather and scenic opportunities, lots of learning and stretching experiences (as in each of the workshops that I have done with Steve). I don't think that it's a coincidence that 4 of the best photographs I have ever taken have been made on these trips with Steve. Each time I think that there is no way we can top what we did last time, we go further. Steve puts you in front of a lot of opportunities on each workshop to make memorable images - and all the assistance you want is a question away. I especially enjoy the way Steve conducts the print reviews -they are the highlight of the event, and I have come to enjoy presenting and discussing my work with Steve and the other workshop members. Another 5 star experience, and I am looking forward to the next one. ... Robert Von Mayr
Steve's Death Valley Workshop exceeded all of my expecations. I learned more in 3 days than I thought I knew in 5 years! Great amounts of information was able to be disseminated without didactics. We learned by doing. Steve knew his terrain very well. He had the 'peak' periods of the day well planned - where to go and when. The dyanmics of the group made learning very easy. The people in the group all had something valuable to provide - even those of us who consider landscape photography as not our primary passion. Steve provided the right amount of attention to the participants. In addition to giving attention to those who asked, he constantly watches the group and tries to engage folks who may want attention but may not ask it. All in all, a wonderful experience. An experience I hope to repeat. ... James Morrissey
My body made it back to Santa Barbara just fine, but my soul is still in Death Valley. It was a super photo shoot - thanks in great part to your enthusiasm, love of the area and extensive knowledge of the Park ... Edward Mendell
I want to thank you and everyone on the trip for their infinite patience and assistance with my novice status...I took in at least 50% of what was offered up and now I have new resources for further info. I would love to make another stab at this in about a year... I'm actually quite happy with shots from this trip... Daphne Micheletti

I got everything out of the workshop (Yosemite Winter) I wanted, and more!! Thank you! I would go on another one in a heartbeat!! It was a wonderful experience! ... Janel Randall
I thought Yosemite Winter was a great workshop and I got more out of it than I had expected. Keep up the great work... Mike Field
Thank you for putting on this workshop, (Death Valley) it was great! The group that you assembled was excellent and I appreciate you taking us to all the various locations. Even though the light wasn't the best at times, going to the locations gave me a chance to pre-visualize future possibilities. Last night, I started processing some of my images, and I think there are some winners ... Steve Chan
The Yosemite 2006 Winter Workshop was fantastic. The workshop as well as the Yosemite. I got plenty of personal attention, but what is even more important was that I could see the newer photographers in the group getting the personal attention they needed. The whole experience was very enjoyable and very worthwhile from a photography and learning point of view as well as a chance to associate with great people doing what I enjoy doing. I have recommended this workshop and your other workshops to many and will continue to do so. I plan on attending more workshops with you and at this point it looks like I will until they pry my Canon EOS 1Ds Mark MLCXXVII out of my cold dead hands! :-) ... Dr Jeff Johnson
As always, a great workshop. Your workshops have greatly improved my photography, and I always take something away from the workshop that improves my photos...Jeff Schweiger
Thanks for yet another terrific workshop (Yosemite in Winter 2006). It was a pleasure working with you and everyone else on the trip. The photography was terrific and you always attract good people who are fun to be with. As always, a great time. Really liked the way you handled the beginner and experienced groups, which I am sure made the workshop more enjoyable for all involved. This is the third time I've "F-8 and Be There'd" with you. I always come home with great images and memories. I'm already looking forward to the next time! ... Paul Sumi
First let me thank you for a first class work shop. (Yosemite in Winter 2006) I had a great time, getting to know you and all the other folks, dining together, hiking or strolling around a beautiful park, great photography and especially learning how to do photography better. My main goal in taking workshops is to learn, I have the time to go to great photographic areas but it is difficult to teach yourself, and the learning curve is way to long for me that way. I think I learned a great deal from your workshop ... Mike Field
My second workshop (Landmarks Of The Southwest) with Steve has come to as fruitful a conclusion as the first (Grand Canyon 2005). I truly appreciate the way that Steve conducts his workshops - the small number of participants, the print discussions, the fact that we are together much of the time (in the car, shooting, eating, etc). There has been exceptional group camaraderie in both workshops - I have learned much from other participants as well as Steve's free sharing of knowledge. Steve has taken me to some truly exceptional places to shoot and I have memories that will last a lifetime - his knowledge of the areas that he shoots in is exceptional. When forced off itinerary due to inclement (but highly photogenic) weather conditions, Steve had ample photogenic backups to fulfill the experience. The Wave was the highlight of the event - an awe
inspiring sight after a vigorous hike through some incredibly beautiful terrain. The slick rock of the Colorado Plateau contains some truly awe inspiring scenery. Thanks again for a tremendous trip. Robert W. Von Mayr
Here are my photos from the Fall 2005 Canyonlands trip. Each time I've gone out to shoot with you, the quality of my photography has gotten higher. The only problem is, you keep pushing my standards higher, too! ;-) Thanks again for a tremendous workshop. Looking forward to working with you again in Yosemite next February.... Paul Sumi

Thanks for a great workshop! You took us to some very interesting places and showed us things that were wonderful just to look at, let alone to photograph. You always seem to know where to go and have places to shoot that, even if I have been in the area before, I either was not aware of, or had not chosen to go to in the past. This was especially true on the Canyonlands / Arches trip. I have been in the area a number of times, but you showed me new things and new ways to see the ones I was familiar with. I enjoy working with you and need and welcome the things I learn from you and with you. Your experience and your eye are very helpful to me. Experiencing any area with a group gives me added insights. It helps me to watch others see and react to various areas. The many tips picked up from the other workshop participants are invaluable. It was fun! I love being with a bunch of people who also appreciate the landscape and I just plain have fun photographing with them. You seem to attract good people that are great to be with. I've been on enough of your trips that it is great to see some of the people I have shot with in the past and continue our friendships. I'm looking forward to many more trips with you. Dr. Jeff Johnson
Once again, a wonderful time spent with a great group. The Landmarks workshop was a superb success for me. Good images from places I have wanted to visit for some time. Your approach to doing a field workshop is just great. David Levy
I had an absolutely great time Steve. Thank you so much. I have never enjoyed the other participants of a workshop (Landmarks 2005) quite like this before. Everyone got along so well. Thanks again for an inspiring experince. Tom Curtis
Steve, an enjoyable trip (Landmarks 2005) with great places and great people. Thanks. Thad Brown
Thanks again for another great time and great memories. (Cayonlands workshop 2005). I've been through about a quarter of my images so far and if this is any indication, I'll definitely have some great ones. Mike Ruegg
Just a quick reply to let you know I got home yesterday safe, tired and very happy :-) Am taking today off to recover and to go through my images. More later, and congratulations again on an absolutely tremendous workshop. Paul Sumi

First I would like to say "Thank you, Thank you, Thank you". I really did enjoy myself this past week, hiking and photographing Yosemite (Yosemite Summer Workshop). I had a "BALL". I've never had so much fun without laughing. As you found out I like to hike and photograph. You gave me the chance to see Yosemite as it should be seen, from all the high points. Your knowledge of Yosemite and its vistas is second to none. I liked the way you conduct your workshops. You laid the ground rules from the very first time we all met. All your instructions where clear and un-confusing, you made sure everyone understood your instruction. Your workshops are far from intimidating; you left it to all participants to ask if he or she needed any help. Your photography knowledge and skills are outstanding. I was able to ask any question whether it be technical general. You had the answer. What I admired the most is you are not afraid to share your knowledge and skills. I got out of your workshop more than I expected. I returned knowing more about photography and people. After viewing your images and working along side of you. I see that you view your compositions from what I call "from the inside out", not from "the outside in". You are part of the image prior to capturing it on digital film. You will see me next year!... Leslie Oglesby
Thanks again for the experience of a lifetime. (Grand Canyon Rafting 2005) The inner canyon is so fascinating and so very different from the canyon as seen from the rim. The play of light, the constant movement (rocks and water) were the apparent themes of my feelings while in the canyon. The workshop experience was top notch and everything that you described - visually overwhelming, physically challenging, and the most unique place on the face of the earth. I made friends that I feel will last me a lifetime, and filled my mind (that other CF card) with the experiences, sounds, and memories of a truly extraordinary trip. I took just under a thousand photographs (16 GB) and there are some truly unique images in there. Robert Von Mayr
Awesome!!!!!!!!!!!!!!!!!!!!!! (Grand Canyon Rafting 2005)
Thanks again for a great trip. This makes six workshops I've been on with you. I don't know how you can top this one, but even if future trips aren't quite as "grand", I'm still looking forward to them. I enjoy you sharing your knowledge of the areas with us. It helps me be a better photographer. The Grand Canyon expedition was especially wonderful. We not only had your expertise, but you made sure the outfitter was the best as well. Bob and Donna, our crew, were outstanding. This was a chance to, literally, immerse myself in the Grand Canyon for eight days. I came back with what I think are some great images from my camera, and a head and heart full of even more images and feelings. I have enjoyed some of the comforts of the "rimworld" since coming back as well as being with my family, but miss greatly the wonderment I experienced around each curve of the river and up each side canyon. I also miss assuming "rapid position" on the front of the raft. The whole experience was awesome. Jeff Johnson
Hey Steve,
Just wanted to really really thank you for an incredible experience (the Grand Canyon, not Vegas :-))). Thanks for your hard work to put it together and your help as we moved through it. Paul Beiser
The last morning on the dunes was great. (Death Valley 2005) Having a chance to shoot near you and either copy or do my own, while getting a running commentary on the progress of the sunrise was just the sort of thing I hoped to happen at the workshop. Joel Bartlett
It has been a great workshop, (Death Valley 2005) the place was fantastic and the variety of the landscape incredible. Thanks for taking us to such a beautiful place and for making all this possible. I'm still digesting the experience, it has been so rich that it was near to overwhelming. Fabio Riccardi
The workshop was a wonderful experience. Having Steve as the workshop leader is like having a personal tour guide, and photo instructor all mixed into one. Steve's knowledge of Death Valley really added to the enjoyment of the workshop. He knows where to go and when, to give the group the opportunity for great shots. Jeff Schweiger
Having talked to you in Iceland about the way YOU run and carry out a workshop and your whole philosophy of why you do what you do I have pretty solid expectations of the kind of group and the kind of workshop and the kind of photography I would experience. It was, indeed, as expected. (Yosemite Valley Winter Workshop 2005) J. David Levy
Join us on a workshop soon!
As always, I had a great time. If I can swing it, I'd love to do the Canyonlands (workshop) this fall. I'm only through about 40% of the pictures I shot in Yosemite (Valley winter workshop 2005). Hopefully I'll get through another chunk this weekend. Shouldn't be hard to come up with 4 or so shots for your website. I really liked the small number of people on the trip, as I got to know everyone very well. Mike Ruegg
This workshop [to Death Valley] was not just about the photography, it was also about being able to experience and enjoy the landscape. Steve's 'Value Add' is his remarkable local knowledge combined with a passion for his work and a great respect for the environment that he operates in. Highly recommended. David Whelan
THE trip of a lifetime - not only the Canyon but the company and the mutual interest in trying to get that definitive 'Grand Canyon' shot! Most of all my thanks to you Steve for organizing the workshop and your intuitive skill in teaching me a great deal about landscape photography without once preaching it! A great job!! Geoff Brousson
(See a short Flash Slide show of participants on the river in the Grand Canyon
or a longer version Flash Slide show that will take a little longer to download)
I went on my first workshop with Steve about 2 years ago, to the Grand Canyon, which was an excellent experience. Steve has been my mentor since then, and we have become good friends. Steve has taught me virtually everything I know about landscape photography! But he has not yet taught me everything that HE knows. So I continue to come to his workshops - this is maybe my 7th trip with him. Bob Messerschmidt
Monument Valley is a feast for the photographic eye. This visit was my third F8 and Be There expedition. Sometimes challenging, but always inspiring. We experienced a tremendous range of weather (rainy, cold, hot, cloudy, bright sun) that was both a curse and a blessing because it stretched everyone's creativity as well as our passion. Steve led us to settings that represented the dignity of an earlier Navajo time and the majesty of the great rock monoliths from the classical Desert Southwest.
Greg Hohner
[See a Flash slide show of participants on the Monument Valley 2004 workshop.]
Thanks for demonstrating the Singh-Ray Variable ND filter at the workshop! It was so cool I ordered one as soon as I got back (yes, I told them where I found out about it). Just arrived and I'm looking forward to using it. Brian Lee
I retained long lasting insights, which will help me progress on my way in the photographic world : "think small" (how to cope with such magnificent landscapes...), "it's all about you" (print review), etc. Also, the last but not the least: we had a very nice group experience. I need to come back and explore all this again with you again Steve! Alain Trinckvel
I gave 6 different images as gifts to family and friends this Christmas. I am so grateful to you for your support of my interest in photography and deeply appreciate that you made it possible for me to give such meaningful (to me) gifts to those I love. You be the "best" my friend. Milton Woolley
I had a great time on the Landmarks workshop. The leader (Steve), locations and other photographers were great. It was exhilarating spending a weekend with others that share a passion for landscape photography. It was also enlightening to look at how Steve and the other participants interpreted the same subject. The print discussion was particularly enjoyable. Joe Beda
Absolutely loved Antelope Canyon! We had a really great group of people. I got a lot out of listening to you talk about art, "thinking about photography", and your life. Thanks for everything (especially your patience). Carol Sakaji-Lee
This was another wonderful workshop. Again it was a significant learning experience and loads of fun. One of things that makes your workshops special is the people who attend. The sharing of ideas and techniques among the group really enhanced the workshop. This size workshop was really ideal. Thanks again. Larry Calof
Great shooting with all of you in Yellowstone! It was another great trip. THANKS Steve! This was my 5th... count'em 5 workshops with Steve. Think I would go if it wasn't worth it in every aspect? NOT A CHANCE! Do yourself a favor and check one. See if you get hooked too! Tim Bloomquist
Steve sets the bar for this type of workshop very high. I have done field workshops with other pro-photographers & have never felt the personal touch that Steve gives to his groups. I came home again with some great images & new friendships that will last a lifetime. Looking forward to the 2005 Grand Canyon rafting trip. Mike Cooper
I couldn't have imagined a better group to spend 5 days shooting in Death Valley. The photographic opportunities were endless and you always had us in the right place at the right time! Thanks for another great workshop." Rick Hochstetler
An absolutely fantastic time. Steve is an accomplished photographer and guide who shares his avid love of photography and the outdoors. He is extremely knowledgeable in terms of the history of the area we were photographing (Yosemite), and was very helpful in terms of helping me understand "my image" better. I cant wait to go back! Paul Beiser
Steve, the workshop was great. I like your love and commitment to the beautiful parks (and the outdoors in general). I am sure my excitement over this trip has an influence on my children which in turn (if I am lucky) should result in a generation of kids that really do care. Your eagerness to answer my questions is appreciated and also your willingness to allow me to "explore" my own ideas is appreciated as well. Thanks again. Tony Gilkerson
It was really great meeting all of you, and I look forward to seeing you on another workshop soon! Chris Watts
Thank YOU Steve for being such an excellent leader and host. You and the workshop truly surpassed my expectations. Even though I was the one lagging far behind everyone else during the difficult hikes, I never felt like I was holding up the group or creating a nuisance. Your patience and understanding was and is greatly appreciated. Warren Agee
I had a great time with you guys. Thanks for your tips and varied knowledge. One of the things I enjoy most about these trips is meeting and learning from the other people on the trip. Thanks for making it a great time Jeff Johnson
Wonderful trip! (Mounument Valley workshop 2004) I had a few mishaps-- lost a battery pack for the 10D and a Petzl headlamp (in the tent), and I kept forgetting my tripod. But I got some wonderful images in spite of myself. Hunt's Mesa was amazing. Though I'm not so sure about the "rope ladder." Once may have been enough. Can you tell I'm not a rock climber? Norman Koren
I really had a great time [in Yosemite], learned a lot, got tons of very valuable insight. Thanks! Fabio Riccardi
It seems so strange to be back home, in such a shallow landscape, without the endless rock formations and colors which surrounded me almost 24 hours a day during the last 10 days. Besides being accompanied by a marvelous group of individuals, each one with wonderful qualities and interesting comments and enjoyable sense of humor, I definitely miss the landscape of Death Valley. I want to thank Steve for making it all possible, you indeed have many talents. Fiammetta Zaneli
I wanted to thank Steve and everyone on the workshop for making it such a wonderful experience. We had lots of adventure, laughs and even some great photo ops! I am looking forward to seeing you at a future F-8 and Be There Workshop. Thanks again everyone! Steve Selcer
I would have been quite satisfied with the many images I created during the workshop [June 2004, Landmarks of the Southwest], but the experience was really enhanced by the camaraderie and fellowship of the group and able leader. Greg Parker
WOW!.... That pretty much sums up my feelings about the experience. (Grand Canyon Rafting workshop) I had the time of my life, I think it showed :>) I'm very pleased with many of my shots. I can't even fathom this experience with different people. All of you helped enrich my life beyond any words that I could ever speak, for that I thank all of you from the bottom of my heart. Tom Curtis
Steve, thanks for a great experience; you provided an excellent environment for making some awesome images. Derek Brown
It was a great trip.(Grand Canyon Rafting workshop 2004) Stone, water, and light. Towering, roaring, shimmering. Good people. Thanks to you all. Brian Bakke
Hey Steve, good one (Colorado Fall Color Workshop) and glad that I'm no longer an F-8 newbie. Great to meet you, Sandra and everyone else. And looking forward to the next time we can shoot together. Paul Sumi
I greatly enjoyed our time together (Death Valley 2003 workshop), and wanted to thank each of you for contributing to the good times and fun. Mark Van Bergh
Steve,
Got back about midnight – easy trip but long. I spent the time thinking about how much I learned on the trip, thanks to you. The locations were beautiful and I was shooting sunrise in the Dunes and Racetrack all night long last night.
Thanks again for everything. I won't have time to look at my stuff until the end of the week, but I know some of it will be fantastic. Rich Wagner
Thank you so very much for planning such a wonderful workshop. (Grand Canyon Rafting Workshop 2004) My wife says I haven't stopped talking about it yet!
Ed Nemergut
Hi Steve, had a great time on the Death Valley workshop. Also, I think I will end up having a good number of portfolio prints from the trip as well. John Simmons
Thanks Steve for organizing such a memorable trip [to Monument Valley]. I enjoyed it immensely even if we had not done any photography. Just experiencing such a unique place, surrounded by the warmth and humor of fellow photographers was rewarding in itself. Andrew Chan
Steve, Congratulations on another great workshop - the best yet for me. What distinguishes F8 the others is that the great picture-taking opportunities are matched by the physical challenges and the great comradely. I don't know of another program like it. Chris LaFleur
The Memories will be foreover (Grand Canyon Rafting workshop) and the pictures are suprisingly good--at least to my less well developed tastes. Candidly, so far, I am amazed that a rank amateur can get lucky enough to end up with quite a few keepers. Must be the great teachers that I had on the trip. Thanks to everyone for the pointers! Skip Klein
Steve, the photographs were received yesterday, in perfect condition. Great shot! I'm sure Lloyd will be as pleased as I am with the photograph-a great reminder of a wonderful trip (Yosemite backpack 2003), and a spectacular view atop Vogelsang pass. Dan ...... The mountain Rebbe
What a great time I had on our workshop. I enjoyed meeting and working with each one of you. I hope to see you again on another of Steve's workshops! Patti Schulze
I would like to thank you again for making it possible for us. In addition to the great photographic opportunities, I particularly enjoyed the print session; it was neat to see what all of the talented people had produced, as well as hear their feelings about their work. I can't wait to see what everyone produced from Death Valley. Dick Barbour
I also want to take this opportunity to thank you for a wonderful workshop. You presented us with a fantastic selection of shooting opportunities. Your knowledge of Yosemite as well as your reverence for its majesty only served to further enhance the experience. Bob Roy
Thanks alot for all the help and support I got from the Yosemite workshop (2003). It will definately be a trip I remember for a very long time. I have never ever seen a place that is more beautiful than Yosemite. I am very grateful to you for guiding us to the best places in Yosemite. Jason Ng
Thanks for an educational and very enjoyable workshop. Thanks also to Rich and Jeff for their good company and great images. Joe Graham
Thanks for the great workshop. Its been pretty nonstop Photoshop processing since I got back. Took some pictures into work today and everyone was pretty amazed at what a great place Monument Valley is. Mike Ruegg
Got home just fine, and didn't even have to walk down hill in the sand! Can't begin to tell you how much I enjoyed the trip. The time certainly was well spent and it has opened a new door for me. Out of the many things I need to become better at, most certainly composition is either at the top or right next to it. Got plenty of pictures, some ok but most I find could have been better composed etc..... So, mission accomplished. My self critiquing has begun. Matt Schlotzhauer
I had a great time (I don't think that is a surprise to anyone). It was great meeting all of you and I've just started to process almost 20GB of data (don't laugh-panoramas take a lot of frames) with the Capture One LE converter (what a great tool). I hope to have to some stitched stuff to show soon. Thanks to you Steve, Tom and Sandra for helping make this trip a memorable holiday. Freddy B
Steve is an enthusiastic teacher who paces himself to the needs of his students. He takes the time to find out what you want out of a shoot and works to help you fulfill your objectives. If your looking for a personalized guided photographic shoot I can highly recommend Steve Kossack's workshops. Steve Chan
I had a wonderful time. Really, the Death Valley wokshop exceeded all my expectations...and my expectations were high! Thanks a million, and see you again soon. Clive Crook
Thanks again, it was fantasic! (Sierra fall color workshop 2003). One thing I need to do more next time is to ask you more questions! Now I'm home and looking at the images, I can see all the things I wanted to bounce off you much more clearly. David Silver
I just returned from my first workshop with Steve, Landmarks of the Southwest. The trip was fantastic. I am a novice at this, and I learned a lot from Steve and the other participants on the trip, who all were enthusiastic, patient and great teachers. Larry Calof
Our Yosemite trip with you was perfect. We had very limited time, and on my own I would have wasted a lot of time scouting out good locations. With your knowledge, we knew ahead of time where to find the best light and the best shooting locations, thus we were able to pack in a lot more shooting than I would have been able to do on my own.

I've also found it very valuable to shoot with a professional photographer. You have provided me with as much or as little assistance as I have asked for, and at the same time you have never been even the remotest bit intimidating. You're approachable and eager to share your experiences with me when asked, and also just as happy to shoot in silence. Lee Carney
Thanks for you help during our Sedona workshop. I asked a lot of questions and got good answers to all of them. I never told anyone in our workshop what I do with my photos. Actually, I give them away to elderly people living in low income retirement homes. I get extraordinary pleasure in doing this as many of these people have so little and appreciate the gesture so much. Anyway, thanks again. Dennis Dawson
Steve is a very enthusiastic photographer & teacher and was able to get me thinking about my photography and what I was trying to say through my images. Unbeknownst to myself, I was self limiting my shooting & printing style. Steve got me thinking about my photography as an art - an expression of myself, as opposed to only a replication of the scene in front of the camera.
In just 2 days I feel that I saw much of Yosemite Valley, much more than I would have seen if I have traveled alone. With Steve's knowledge of Yosemite we were able to find the best location to suit the prevailing weather conditions, which in Yosemite can change by the minute. Without the knowledge and eagerness of Steve, there would have been many images that I would not have captured... Who would have thought standing in the rain and snow at Tunnel View at 05:00 in the morning would have produced such a wonderful photo opportunity?
Steve is a really easy going guy that is very fast to adapt to a persons' shooting style, and was willing to offer as much or as little advice as you require.
I thoroughly recommend Steve to anybody who is serious about their photography, whether you are entry level or a pro. In addition, Steve was also able to shed a good deal of insight about what we were shooting, from an environmental and historical perspective. A fountain of knowledge that he is more than willing to share whilst you are waiting for the 'right light'. James Mitchell
Client Comments
Another wonderful photo workshop with Steve and his merry band of photographers at Cayonlands NP in the fall of 2009. Terrific locations, well done workshop. Fantastic participants. Great teaching. I like Steve's workshops a lot (this was #10) because it combines a small group dynamic with some serious photographers. We have a great time together in fantastic locations - having fun and doing kick-ass work at the same time. It doesn't get any better than that. This workshop also featured some pretty unpredictable weather, which really stretched the "Bad Weather = Good Photography" paradigm. I brought home several portfolio quality images and memories to last a lifetime. I'll be back for #11.
Robert Von Mayr