why us?
While our workshops are not for everyone ... Our workshops are...
A Total Experience...
Unlike some workshops that force you to meet in distant places, or find lodging in places with which you have no familiarity, or that also require a car rental that may be unsuitable for the workshop activities.
There is not much "down time" on our workshops and expeditions. We work and play hard. We are not sponsored by anyone. Rather than try and put you in a dark room and sell you photographic equipment and the like, we think your time is better spent seeing and experiencing the areas we have chosen. We'll take you to the places at the times where we have been successful photographically. we'll show you as much of an area as possible in the time we have together. From well before sunrise to long after sunset is our average day in the field!
We take care of you from the moment you arrive at the airport until your arrival back for your flight home! You are free to do what you came for - landscape photography. We take care of everything else! Bring your gear and enjoy, with no worries about anything that may have been left to you to arrange, and that might go wrong. Your hotel accommodation is included as part of the workshop fee.
Our workshops...
- are small and intimate. We don't feel you can learn in an environment that has unlimited group size, as some do. It's not possible to dedicate enough time to you personally in a large group. We want to know your photography needs and provide the inspiration or help that you came for. It's all about YOUR photography!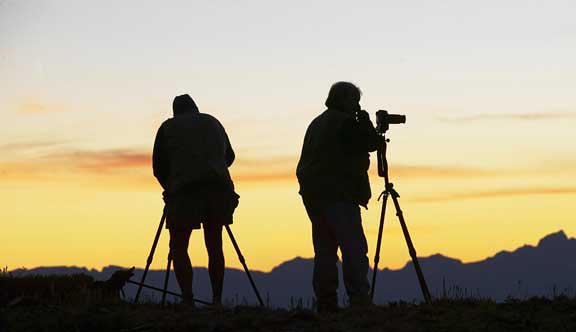 Our workshops...
- travel together. We provide the transportation everywhere. This is important for three reasons:
Reason #1. We often go places that require experience and the right equipment. Places that can be very difficult and dangerous for those without either. We don't want you racing to catch up. We don't want you lost, and we don't want you to have to hurry though your shoot just because others have left the area you are enjoying.
Reason #2. We become a family like group. We get to know each other. The learning experience is shared during travel. This adds to the discipline and dedication and enjoyment. Being able to share thoughts and strategy with leaders and participants adds much to the learning process. Worrying about losing a group or being lost yourself, does not!
Reason #3. We are truly excited and happy with the friendships that are made during our workshops. There is just no describing the fulfillment of finding people that have the same interests that you have. Most come for the photographs and also go home with new friends!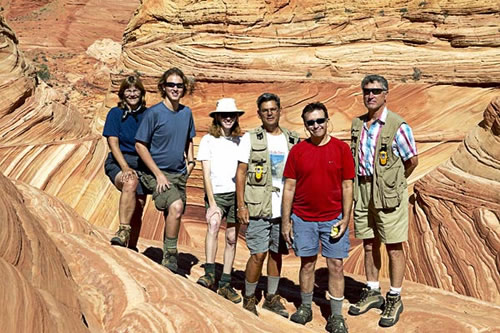 Our workshops...
- have set itineraries. We have the experience to plan and take advantage of the time in the field. We have photographed in all locations previously and know the best places at the right times. Ours are professional workshops. Every hour is planned! Our goal is to put you in as many possible photographic situations as possible. Some attendees have come back with over two thousand frames! Unlike some informally constructed trips that shoot for a few hours, serendipitously, we plan so that our days take advantage of the area. We don't change base locations, no need to pack up everyday and carry everything with you. We base in ONE hotel and One area and cover it completely! We can do this because we've eliminated the wasted time. You benefit from our years of previous experience.
Client Comments
"I been spending some time lately thinking about what what really brings joy into my life. Outdoor photography and all that it encompasses is a very very large part of that In my quiet moments I go to those special places in my mind and remember the feelings I was trying to capture with my camera. I appreciate you introducing me to that world. Our first trip was to Yosemite in the winter. I appreciated you and Tim being so patent with me as I knew very little about photography. It has grown from there. I appreciate the fundamentals you have taught me. It is the best way to do things. The thing I most appreciate is your passion for nature and struggle for survival and beautiful things and beautiful places. For me it was contagious and has added a whole new dimension to my life. You gave me a gift that was unique to you. Steve, I want to thank you for that."
Dr. Gus Gustafson