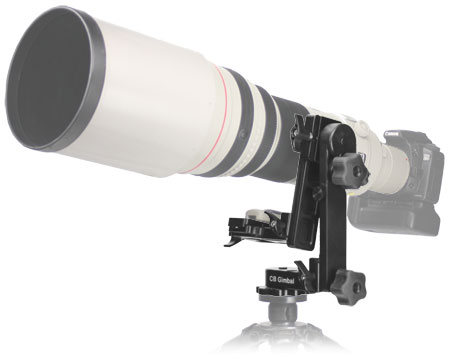 The New Gimbal mount from Custom Brackets
Functional …. steady and sturdy!
I know this kind of conclusion wrap up of a product review is usually saved for the last paragraph. I also know others, including myself, that will just skip to that paragraph and then go back to see why what was stated there was included. I'll save you the trouble. Here is why I use it followed by why I can recommend it.
Revolutionary in design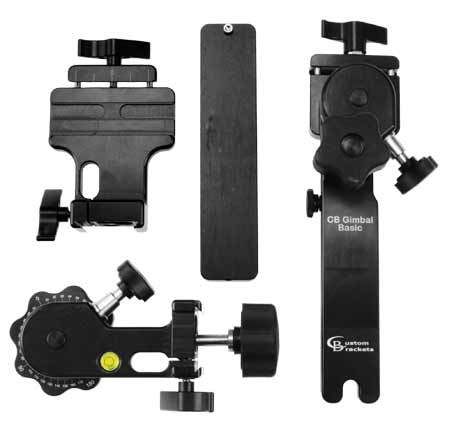 The complete CB package
You know these guys already. They're been making all your favorite custom brackets for years. They now endeavor to further this fine tradition with the Addition of this top quality gimbal mount.
Custom Brackets states boldly …A gimbal designed the way it should be. The CB Gimbal utilizes precision roller bearings for the easiest pan and tilt, making it the perfect companion for any telephoto lens. Innovative modular components allow for easy disassembly and maximum portability. It is a must-have for any photographer seeking the best gimbal available.
I have no argument with any of this. I have had experience with the major competitors in the field over the years and have very few complaints about functionality. Yes I've had a few break at various times and one even malfunction to the point that it became unusable. A detent pin broke on the travel lock and I was, as they say "dead in the water!" It did what it was designed to do. It locked! The CB has a mechanical lock that can never do this. It's a small part of this package but for me, it was the first thing I looked at!
| | | |
| --- | --- | --- |
| | | |
| Steady ... | sturdy and..... | highly functional! |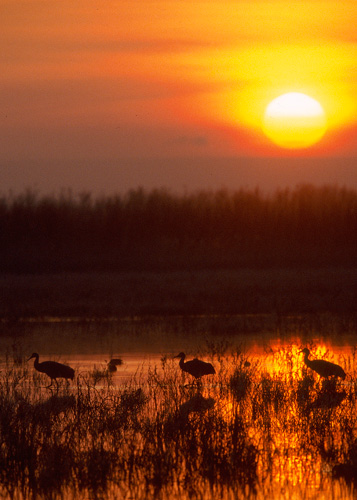 Strudy for those longer exposures too!
My approach to a gimbal may be quite different from those that do primarily wildlife photography. I'm a fine art landscape photographer with the occasional need to use wildlife in my compositions. However I will do long lens landscape with regularity. Most of my concentration in the field is devoted to other things besides the technical aspect of the equipment I use. In this respect you might find a common bond in the need to keep your equipment functional and somewhat basic. In other words I need to be free of the restraints that heavy and difficult to use equipment can cause. I need to make my gear as instinctive as my thoughts in order to be successful out there! I don't use long lenses a lot but when I do, I need it to be as light as possible and to be second nature in its use. I've found a long time ago that equipment that is neither of these simply won't last in my kit.
First and foremost I have learned that if you don't want to bring a piece of equipment with you, you will find a rational not to. How many times have you thought to yourself, I don't think I'll need a tripod. I don't think I'll need my shooting vest. I'll just leave the long lens at home. If you are like me, this is the result of such thoughts as … The tripod is really heavy and I'll be hiking. The vest will make me too warm out there. The lens is unbalanced on my shoulder and I don't really want carry it that way. And you know this is all wrong! I researched until I found a tripod light and functional enough. I did the same with a shooting vest that was functional and comfortable under most situations and I also found a backpack for my long lenses. The point is that if I can't get my equipment comfortably into the field where I use it, it's literally of no use to me!

Is it for you?
I don't like to recommend. I think we are all different in our approach to our photography. If you put six photographers shoulder to shoulder you'll get six different images. You'll also find, at the very least, six different brands of photo equipment in every category! I never argue with success on any level. The kit that works for you is the right one. However if for any reason it doesn't, then knowledge in seeking solutions is what I'll do next. Research is the key for me. If you are in the market for a replacement gimbal mount I think you'll do well to take a look at this new concept. If you think are not, well, you just might change your mind for the following reason alone.
| | |
| --- | --- |
| | |
| The eyes have it! | When it has to be sharp! |
This gimbal mounts breaks down into many functional parts. It's a quite different concept from any I've used in the past and I think, quite revolutionary. They've simply built a better mouse trap!
Most importantly is the ability to transport the head in any situation. I can actually fit it into my photo backpack and take it with me as carry on when air travel is necessary. As a photographer that is strapped with the ability to take only what will be carried on, this is highly important to me! I once had a pair of tripods stolen on route to a shoot from my checked baggage. Since I can no more shoot without a tripod, or with long lenses without the gimbal mount, this ended a shoot before it started! Now I simply break down the CB Gimbal and take it aboard with me.
You might think that with this many parts the strength would be compromised in some way. Not true! The unit uses strong Arca-Type connections for all joints, backed up by substantial safety stops. As a result the unit is rock solid, and there is no movement whatsoever in the joints,. There have been no problems using the CB Gimbal with the heaviest of my lenses and the upright can also be used on its own with an Arca-Type ball head like the Wimberley Sidekick. If you are hiking or traveling light and need to switch between long and short lenses that can be a major advantage.
Here are what Custom Brackets thinks are the CB Gimbal Benefits:
The capacity to handle all telephoto lenses
Precision roller bearings allow for easy pan and tilt
Easy to disassemble for compact packing and travel
Black 'hard anodized' aluminum for strength, scratch resistance, and light weight
Maintenance-free; no lubrication needed

Modular system allows the use of a standalone gimbal or ability to turn any Arca-Swiss style ball head into a gimbal

All assembly knobs are aluminum and captive to prevent loss and breakage

Separate soft rubber-coated lock and drag knobs allow for greater comfort and more controlled pan and tilt

A setup / travel lever for the safest way to balance your lenses, change cameras, and travel

Built-in bubble level for more accurate panning while tracking objects

Base with degree markings for panoramic images

Laser-engraved reference lines for quick setup
So how does it perform in the field?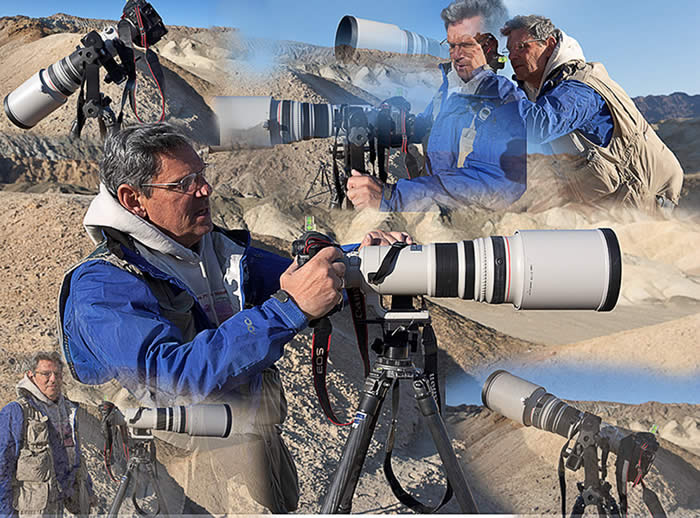 Once again ...Functional, sturdy and steady! It has four parts. If you haven't brought it into the field assembled, it only takes a few minutes to put it together and it is intuitive. Once you've done it, it's literally a snap… Well a and slide and a turn of a knob. Mounting to a tripod is as easy as any ballhead. Once ready the mounting of a long lens is straight forward and the balance very easy to adjust with the large knobs. Like all good gimbal mounts the pan and tilt is smooth and consistent. the precision bearings used in the CB Gimbal are designed to work under load. once it's on a tripod with a lens attached, it is smooth as glass and I rarely find myself adjusting friction or drag, The heavy setup feels almost weightless and effortless to use. Unlike some, the CB Gimbal setup does not obstruct the view over the top of the camera. All adjustment knobs are level with the lens or lower. I like to look up constantly to survey the scene before me. I go constantly back and forth from the viewfinder. Having nothing over the camera is of great benefit in my style of shooting! After mounting a heavy lens and using it for just a few minutes the adjustments seemed straight forward and they were easy to see and make. There was not, at any time, when I experienced doubt as to what I wanted it to do or how to do it! It functioned in every way just the way I wanted it to. For me there was no learning curve. This means that I won't have to lean it again each time I use it. There are some great safety features to keep the camera body and lens in place and I've found nothing that can be loosened unintentionally, and as mentioned to start, I'm one that throws the entire rig over my shoulder when in the field., The travel safely lock will keep it all in place!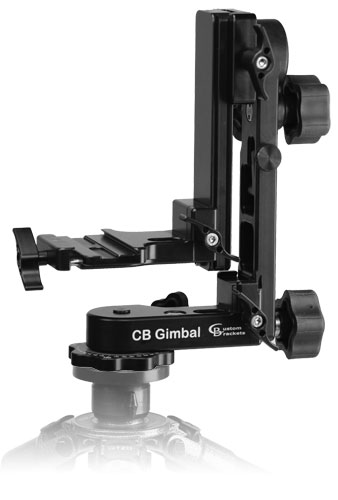 Interesting to look at and beautifully designed!
For ALL the CB Gimbal is and does, it is fairly lightweight to boot! It surprised me nicely. Just over three pounds when complete, it feels about half that when you pick it up. It's also quite small compared to others and its sleek design is a work of art. There are degree markings for panoramic images and built in bubble level. It is just interesting to look at and beautifully designed! Here's the specifics:

Specifications

Weight: 3.3 lbs. (1502 g)

Bracket Dimensions: 9-3/4" high, 8-1/2" wide, 3-7/8" deep

Metric Dimensions: 24.7 cm high, 21.6 cm wide, 9.8 cm deep

Included
3/8" x 16 tripod mount
Conclusion
The CB Gimbal is everything I need. It's light enough to take it everywhere in the field, and I do! It breaks down so I can take it everywhere I travel, and I do! It's sturdy and steady enough to use with all my lenses, both long and short, and I do! if you already have a gimbal mount and for any reason might be interested in "a better mouse trap" I think this one should defiantly be considered. If you are looking to add your first gimbal to your kit this is a great place to start. It took me a few tries to get here! It's priced with the industry's finest, as would be expected, and comes with a full 5 yr warranty. They really believe they have that better mouse trap and want you to have one!
To learn more about the CB gimbal mount ...or get yours!
A final note … Custom Brackets are currently in the final stages of production of their own Panorama bracket. I'm greatly impressed with the quality of the CB Gimbal, and I would expect the same great quality to be carried into the Panorama … and trust that it will be among the best available. More as I know more!
Client Comments
"I been spending some time lately thinking about what what really brings joy into my life. Outdoor photography and all that it encompasses is a very very large part of that In my quiet moments I go to those special places in my mind and remember the feelings I was trying to capture with my camera. I appreciate you introducing me to that world. Our first trip was to Yosemite in the winter. I appreciated you and Tim being so patent with me as I knew very little about photography. It has grown from there. I appreciate the fundamentals you have taught me. It is the best way to do things. The thing I most appreciate is your passion for nature and struggle for survival and beautiful things and beautiful places. For me it was contagious and has added a whole new dimension to my life. You gave me a gift that was unique to you. Steve, I want to thank you for that."
Dr. Gus Gustafson